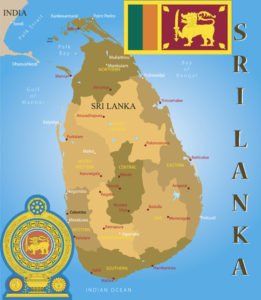 Introducing useful information about traveling in Sri Lanka!  Let's go check it out♪
Sri Lanka Taxi Service Official Youtube Channel
Are you worried about transportation in Sri Lanka?

There are several national and city transportation options . Cars and buses are the mainstream, but there are also railways and, rarely, air taxis (seaplanes).
Make your trip in Sri Lanka (approximately 0.8 times larger than Hokkaido!) With a surprisingly large land area smart and fun according to your destination and travel style!
[Transportation method 1. ] Taxi
Once you arrive at Bandaranaike International Airport, the gateway to Sri Lanka, the only way to get into the city is by car.
There are
several taxi counters in the arrival lobby, so you pay first. Prices vary depending on the destination, but there is no need to worry because an easy-to-understand rate table is provided.
The only caveat is that fare may vary significantly depending on the taxi company. When I was paying for a taxi before, when I looked at the price of the counter next to me, it was twice as different.
Let's compare firmly and choose a company that is as good as possible!
→ Postscript in 2020: The price difference for Negombo and Colombo has now disappeared, and the price is the same everywhere.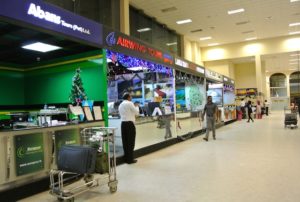 After paying the fare, you can take a taxi. The platform is just outside the arrivals hall. It is very easy to go to the exit because the taxi company staff will guide you to the designated car.
When you get on the bus, check the destination once again with the driver just in case.
[From airport to each city]
| | | |
| --- | --- | --- |
| destination | Price | time |
| Negombo | Rs2,500 | 15 minutes |
| Colombo | Rs3,500 | 45 minutes |
| candy | Rs15,000 | 3 hours |
| goal | Rs15,000 | 3 hours |
* As another recommended method, you can ask for pick-up from the hotel or guest house you plan to stay . It may be a good idea to contact them in advance.
* There is also an airport bus . But this is a little inconvenient.
There is a free shuttle bus stop about 100 meters to the left of the arrival lobby. Once on this bus, move to another terminal, then change to another destination bus and head for your destination.
In addition to being able to go directly to the hotel, it is also difficult to move large suitcases one by one. In addition, most of the flights arriving from Japan arrive late at night, so buses may not operate.
[Transportation method 2. ] Bus
Buses are the most popular means of transportation among ordinary people. After all it is very cheap! It is convenient because there are many routes and numbers. There are different types of buses.
First, there is a state-run (SLTB-Sri Lanka Transport Board) and a private run, but there is almost no difference in prices. What matters is the difference between a normal and an intercity bus.

Normal buses are state-run (SLTB) and stop freely where passengers want to get off. The fare is very cheap, but the disadvantage is that it takes a lot of time and is not readable, and there is no air conditioning.

Intercity buses stop only in major towns. So if you want to move between cities, we recommend this. However, the fare is about twice that of a normal bus. They are air-conditioned, but often too cold to work.
〔merit and demerit〕
| | | |
| --- | --- | --- |
| | normal | Inter City |
| fare | cheap | 2 times normal |
| Stop station | Anywhere | Main town |
| time | long | short |
| Air conditioner | Nothing | Yes |
To get on the bus you have to go through several barriers.
First, look for the terminal, which is the platform.
Depending on the destination such as Colombo or candy, and the type of bus, there are several terminals.
Once you find the terminal, you have to find your bus from the several buses that stop there. Please pay your conductor after boarding your own bus. If your luggage is large, we will keep it, but you may have to pay extra.
The bus is very complicated to get on, so if you have any questions, you can ask the people around you and the barkers for guidance.
[From Colombo ~]
| | | | |
| --- | --- | --- | --- |
| destination | normal | Inter City | time |
| Negombo | Rs57 | Rs120 | 1 hour |
| candy | Rs155 | Rs245 | 3 hours |
| goal | Rs150 | Rs295 | Three and a half hours |
[From candy]
| | | | |
| --- | --- | --- | --- |
| destination | normal | Inter City | time |
| Polonnaruwa | Rs183 | × | 4 hours |
| Anuradhapura | Rs190 | Rs360 | 4 hours |
| Dambulla | Rs100 | Rs200 | 2 hours |
[Transportation method 3. ] Railway
Sri Lanka's railways are not recommended as a means of transportation because they have a small number and take time.
However, it is worth taking a ride to enjoy the atmosphere of a retro vehicle and the beautiful and peaceful scenery seen from the window. Trains from Kandy to Nanu Oya (Nuwara area) are among the world's leading routes where you can enjoy the vast and green tea fields . This line is very busy with tourists.
There is also an observatory train, and you can make a reservation 10 days before departure (reservation is required).
Another recommended route is the coastline from Colombo to Galle. It is a popular route for tourists who can enjoy the sea, sun and sea breeze. Railways are divided into three classes.
The first class is only seen on limited trains, such as limited express trains connecting cities.
The above observation trains are also classified as first class cars.
The second class is a relatively spacious train with seats for two on either side of the aisle. The seats are soft and comfortable.
The third class is a train in which wooden seats for two or three people face each other and are arranged on both sides of the passage. Trains are popular with locals and can be crowded. The seat is like a hard bench, so it is not suitable for long-time movement.
To get on the train, first buy a ticket at the counter counter at the station.
There are several windows depending on route and class. You may want to buy it the day before to avoid panic on the day. After purchasing the ticket, go through the ticket gate. Check the retro sign for train destinations, times and platforms.
Once you arrive at the designated platform, all you have to do is wait for the train. There are many cases where trains are delayed at stations that are not the first train station. First-class cars are reserved seats, but others are unreserved, so please do your best to secure a seat! In addition, it is recommended that you check with the station staff or people around you, as there are often changes to the platform.
[Routes] [From Colombo]
| | | | | |
| --- | --- | --- | --- | --- |
| destination | First class car | Second class car | 3rd class car | time |
| candy | Rs500 | Rs280 | Rs180 | Two and a half hours |
| goal | × | Rs180 | Rs120 | Three and a half hours |
| Anuradavura | Rs900 | Rs450 | Rs160 | Five and a half hours |
[From Candy (Perah Deniya)]
| | | | | |
| --- | --- | --- | --- | --- |
| destination | First class car | Second class car | 3rd class car | time |
| Nanu Oya | Rs300 | Rs160 | Rs90 | 4 hours |
* Sri Lanka Railway: www.railway.gov.lk
[Transportation method 4. ] Three Wheeler
Three Wheeler is the most commonly used means of transportation in the city. It is a small car with an engine with three wheels, along with a so-called tuk-tuk.
The fee is negotiated with the driver each time. There is also a meter system in Colombo, Rs50 for the first ride, Rs35 for each kilometer.
The metered three-wheeler is marked with "METER" on the roof, so it is easy to distinguish. Please check that the meter is working properly when boarding.
In Colombo, there are a lot of sinkwheels running, so if you want to ride, raise your hand and stop.
Tell the driver where to go and negotiate the fare together if it's not metered. At this time, you may be asked to raise the price, so let's negotiate well .
Once the negotiations are completed, please board. The fee is postpaid, but there is almost no change, so bring a small bill. No tip is required.
There are metered taxis, but it is difficult to find a sink taxi outside Colombo. If you arrange one by phone, we will pick you up in about 30 minutes.
* Kangaroo Cab: 011-258-8588
* Ace Cabs: 011-281-8818
[Transportation method 5. ] Air taxi
All domestic flights in Sri Lanka are seaplanes and air taxis. Regular flights are operated to 16 locations based in Colombo.
The schedule may change or be canceled depending on the season and weather, so it is good to check on the website. The farthest place from Colombo takes more than 10 hours by car, but it can be reached in about 1 hour by air taxi.
The platform is a river, sea or lake. Domestic flights require a passport to board. Don't forget. Luggage can be stored up to 20 kg per person.
[Transportation method 6. ] Tourist car (taxi charter )
Charter cars, taxis, and vans with exclusive drivers used for tours.
This is the easiest and most convenient way to travel if you have limited nights or time, or if you want to visit archeological sites and World Heritage sites scattered throughout the country .
Prices vary from company to company, but some are based on mileage, while others may be based on days if chartered for several days.
An exclusive driver will accompany you on the trip, so you can always move freely to the place you like at your favorite timing. You can easily drop in at a convenience store, supermarket, souvenir shop, or even a place where you may find an interesting place to catch your eyes.
Even in Sri Lanka, where there are many means of transportation, all of them are time-consuming and time-consuming.
In the end , chartering a car is the most efficient and convenient way to move around Sri Lanka, where the land is really large, easily and stress-free .
There are a number of taxi charter companies, from small ones where drivers are doing individually to large ones, but more than 1,000 people use it annually, Sri Lanka Taxi Service where Japanese managers, Japanese drivers and Japanese staff are resident. Is the most popular among over 200 reviews with affordable prices and high service and driver quality. By all means contact us please.
Customers of the voice of Sri Lanka Taxi Service here from
Rates of Sri Lanka Taxi Service is here from
Please feel free to contact us if you have any questionsWe will respond within 24 hours.
Contact Us