A guide is unnecessary if you look at this! World Heritage Sigiriya Rock Complete Guide! Thorough commentary from the highlights you need to know to the shooting points for Instagram!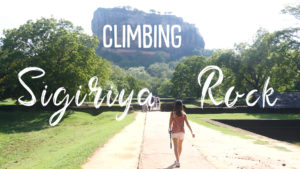 1.

What is Sigiriya rock?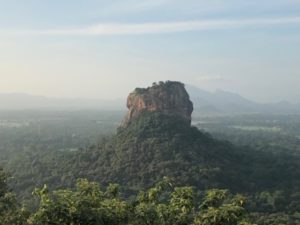 Sigiriya rock (also known as Lion Rock) is a giant rock at an altitude of about 400m that rises above Sigiriya in the cultural triangular area of ​​central Sri Lanka.
Around the 5th century, Khashapa I built a royal palace on Sigiriya Rock, and the whole area flourished as a city. It is exactly an aerial palace.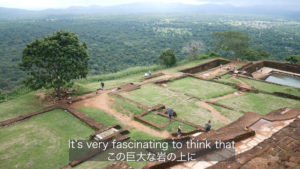 You can climb to the top, and there are many points of interest where many wonders lurch along the way.
Today we will introduce you to this fascinating World Heritage Site full of secrets.
Sigiriya Rock has regained its attention in recent years only after Sri Lanka became a British colony underground in 1857.
On the west side of this huge rock were discovered several paintings of a woman (Sigiriya Lady).
It has since been cleaned and maintained so that tourists can now visit it.
Its size is about 400 meters north to south and about 180 meters high. In 1982 it was registered as a UNESCO World Heritage Site.
2. The history of Sigiriya rock you need to know before you go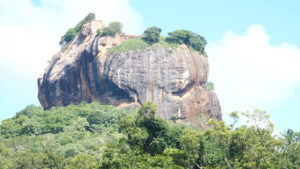 There is a tragic story behind this aerial palace.
King Kashapa was in conflict with his blood-linked brother Moghalana over the right to succeed.
And in the 5th century (478) of the Sinhalese dynasty, King Khashapa kills his father.
Meanwhile, Mogallana fled to India.
Thus, Kashapa was able to take the throne, but he lived feeling responsible for having killed his father.
King Kashapa decided to fulfill his dream of building a palace in Sigiriya Rock, which his father had planned for many years.
Then, seven years after taking the throne, the magnificent royal palace is completed at the top.
Eventually, in 495, the fleeing brother Mogallana returned with the army.
King Khashapa, who is inferior, pierces his own throat and commits self-harm.
With the destruction of King Khashapa, the ornate palace ended its role in just 11 years.
3. Highlights of Sigiriya Rock
<Sigiriya Museum>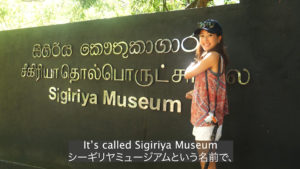 Next to the ticket office at Sigiriya Rock is the Sigiriya Museum, which was built in 2009 with the cooperation of JICA.
Admission is included in the ticket price, so anyone planning to climb Sigiriya Rock can enter.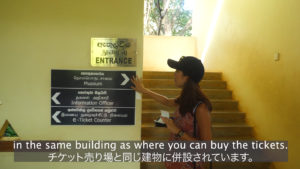 Here you can get a lot of valuable information through the history of Sigiriya Rock, photos and videos from discovery, dioramas and replicas. Deepening your knowledge before climbing will make your adventure more enjoyable.
<Water garden>

Before you start climbing Sigiriya Rock, pass through the vast gardens at the foot of the mountain.
On the left and right of the road are green grass and trees, beautiful flowers and fountains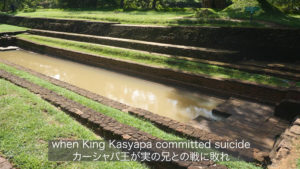 It seems that a stream that circulates water had a water supply flowing up and down.
<
Mirror wall

>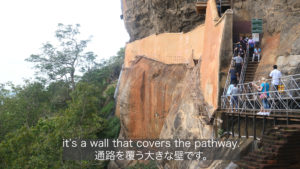 When you reach the middle of the rock, there is a plaster wall that extends for about 100 meters. It is a mirror wall.
The height is about 3 mails, and the inside of the wall has a passage about 2 mails wide.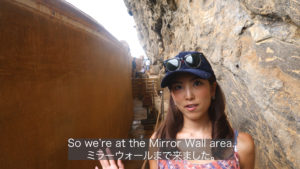 Tourists can observe the walls as they pass through this passage.
In the past, this wall was all mirror polished, reflecting all the murals painted on the opposite cliff.
If you look closely at the wall, you can see that the letters have been cut.
This is what a visitor to this wall used to turn his surprise into a poem.
At this point, the outside scenery that is visible on the way is already very beautiful!
<Sigiriya Lady>
Walk for about 20 minutes from the entrance and climb the steep spiral staircase to find the first mystery point.
It is a mural of the famous Sigiriya lady in Sigiriya rock.
Although its identity remains a mystery even now, one theory states that it may be the celestial Apsara.
There are currently 18 paintings of women left, but it was said that about 500 were once painted.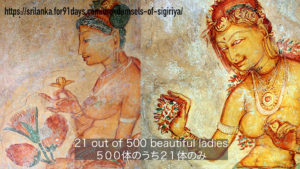 It is said that a topless woman facing the north is a lady, and a woman wearing clothes is a maid.
This painting is the only non-religious mural in Sri Lanka.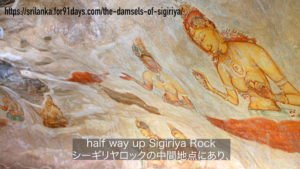 Also, if you look closely, some of the lines in the picture are doubled.
The original picture, drawn with plant pigments, fades over time, which is the result of restoring the picture.
It is strange that such a beautiful mural is left in the middle of the cliff.
The expressions of the women smiling quietly create a mysterious atmosphere.
<Lion Terrace>
A little further up the mirror wall is the Lion Terrace.
Here is the entrance to the palace at the top.
Sigiriya Rock has the meaning of "Lion Mountain", and the hands of a large lion made of brick and plaster stand on both sides.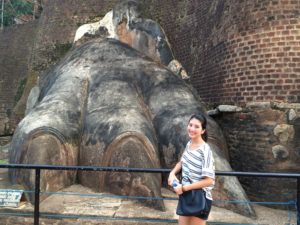 There are stairs between hands, and climb up these stairs to reach the top palace.
However, the lion's torso and head parts have not yet been excavated.
Initially, it is thought that a giant lion's full-length statue was built so as to cover the north side of the rock, and stared at the north.
Even so, the big claws you see up close are powerful!
<Palace ruins>
Go up the steep stairs for about 10 minutes from Lion Terrace and finally reach the goal!
You will reach the top palace.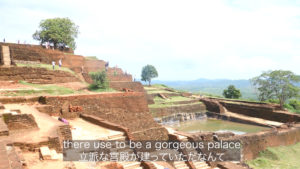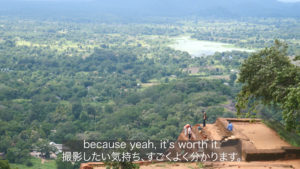 A luxurious palace, measuring 1.6 hectares, was once built, and its remains are clearly visible.
There are stairs, baths, lookouts and many traces.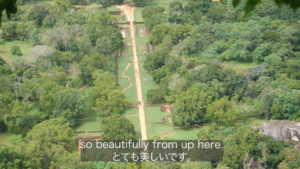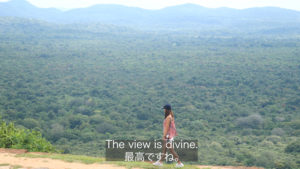 You can see how the original construction and flood control techniques were so advanced.
And the best view from the top is the best!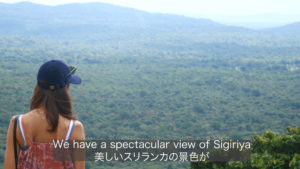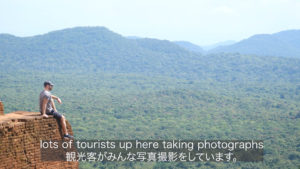 It offers a 360 degree view of Sigiriya's jungle and city.
Especially beautiful at sunset!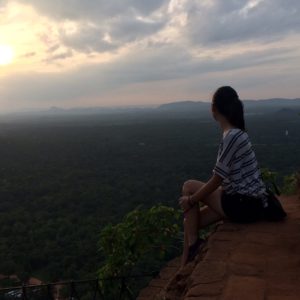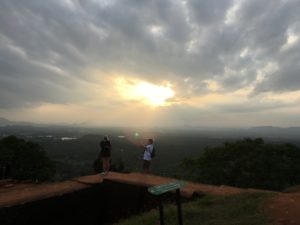 You will be fascinated by the power of nature. This is a palace of the fantasy sky.
By the way, the insta point is here ↓↓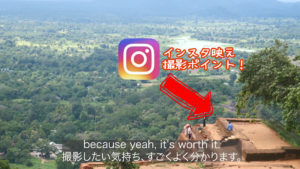 ↓ You can get a nice photo like this, so check it out!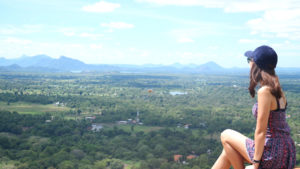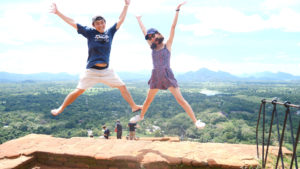 4.Notes on Sightseeing in Sigiriya Rock
・Climb in the morning or in the cool evening time . I do not recommend it during the daytime as it gets very hot.
・Let's bring water .
・Let's go for exercise . The slopes and stairs are very steep and slippery. Please wear comfortable shoes .
・ There are many bees. Be careful not to get stabbed.
・ There are many wild monkeys. Because people are used to it, they usually come on their shoulders and head. Please be careful not to get your luggage .
5.Available hours and fees for Sigiriya Rock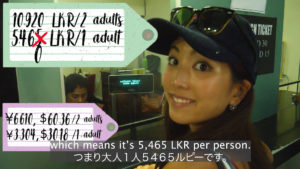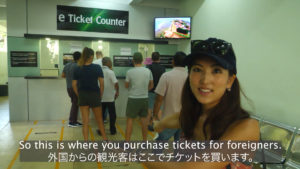 ・ Fee: Approximately Rs.5,500 (US $ 30) is fixed, and the rupee fluctuates depending on the exchange rate.
Please note that payment is only for Sri Lanka Rupee (LKR) and credit card can not be used!
・ Time: 7: 00-18: 00 (varies depending on the season)
・ Required time: 2 ~ 3 hours
6.
If you have trouble reading, watch this video
Both those who have read this far and those who have been skipped so far by scrolling the page (laugh), I have summarized this content on Sena's Youtube channel "Sena`s Trip Tips" , so please have a look here.
We will be distributing useful information not only for Sri Lanka but also for other countries in the future.
Secure Sri Lanka! Comfortable! And I want to travel at a great price!
Please contact Sri Lanka Taxi Service by all means.
Let's all have a good trip! !